Regular price

Sale price

$23.99 USD

Unit price

per

Regular price

Sale price

$23.99 USD

Unit price

per

Regular price

Sale price

$23.99 USD

Unit price

per
Let customers speak for us
Clean ingredients for your little one, convenient meal prep for you.

1. Select your sauce

A Tomato sauce staple, dipping MVP BBQ sauce or palate expanding Green Coconut sauce, you can't go wrong with any flavor.

2. Pack the pantry

Whether you have time to plan ahead or need to throw dinner together in a pinch, our sauces are pantry friendly and ready to grab under any meal prep conditions (lookin' at you hangry toddlers).

3. Meal prep in minutes

Stir in, spoon over, dip, dunk or marinade. Pair with a protein, grain and vegetables. Meal accomplished.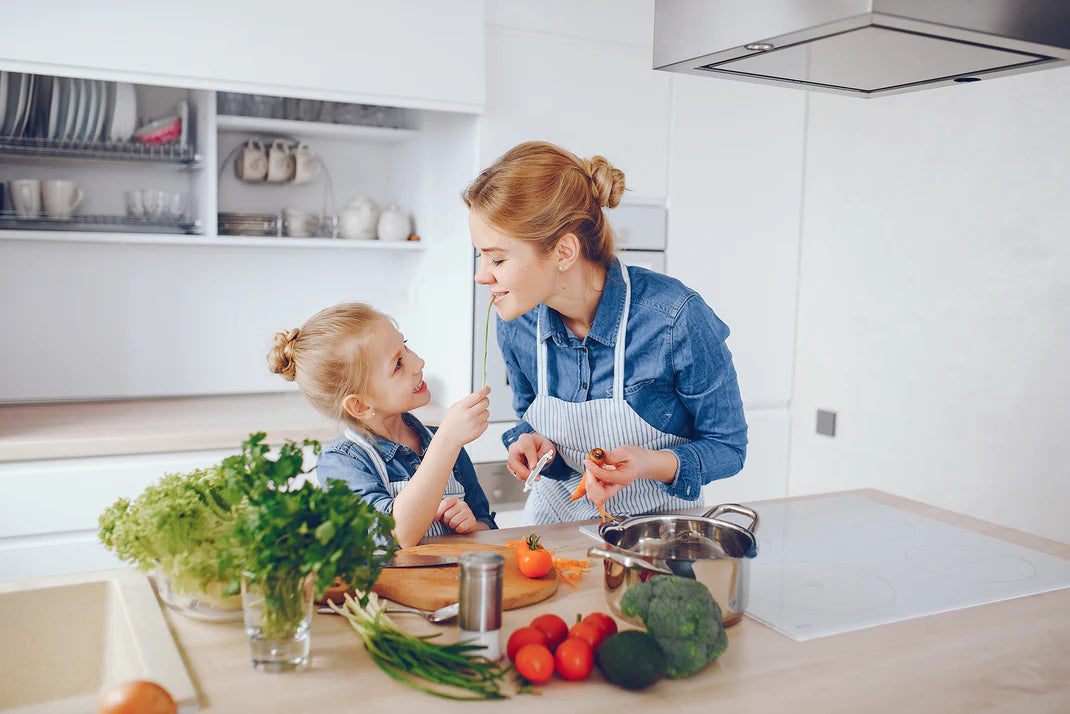 Our Promise
We only use nourishing, purposeful ingredients that you recognize.
❌ No added salt
❌ No added sugar
❌ No artificial preservatives
❌ No natural or artificial flavoring
Mealtime Made Easy

Making a home cooked meal for your child on a busy day is challenging. Speaking from our own chaotic household, we know convenience matters. Beyond the Bib sauces are an easy-to-grab shortcut to creating a well-balanced meal.

Flavor Matters

Early exposure to a variety of flavors is shown to minimize picking eating. We did the hard work by selecting a range of vegetables and blending them with herbs and spices to nail those global tastes you love as an adult, but in a mild, kid-friendly way.

The Secret Sauce

While our sauces are blended with veggies, we also believe in introducing, eating, and enjoying vegetables in their natural forms. By adding vegetables to a balanced meal, kids learn to appreciate different textures, tastes, and smells. But hey… some extra hidden veggies can't hurt!
Frequently Asked Questions
If you do not see the answer to your question, please reach out to us at hello@beyondthebib.com.
Collapsible content
What makes Beyond the Bib different?

BTB sauces are specially made for toddlers and children; loaded with tons of vegetables, herbs and spices and without added sugars, added salt, artificial preservatives, or 'natural flavoring'. Our sauces are mild takes on adult favorites; not spicy or too bold. Just right for a toddler's developing palate.
Is my child old enough to eat Beyond the Bib Sauces?

Beyond the Bib™ is ideal for children who can self-feed with fingers and are accustomed to biting and chewing a variety of solid foods and textures. Our products should only be fed to seated children supervised by an adult. 
Can older kids and adults eat Beyond the Bib?​

Yes! Studies show that eating the same meal together as a family can have positive effects on a child's development. Our sauces are delicious and can be enjoyed by older kids and adults too.
Are there any artificial preservatives in your sauces​?

Nope! Our sauces are shelf-stable because they are put through a commercial heating process. We work with a licensed Processing Authority to ensure all safety regulations are met and use natural preservatives like pure lemon juice instead of chemicals and artificial preservatives found in traditional sauces.
Do Beyond the Bib Sauces contain any allergens?​

Allergens, if any, are listed on the label of each product and listed on the product page on our website. BTB sauces are currently manufactured in a facility that also processes milk, eggs, nuts, soy, and/or gluten.
How long can you store an unopened jar of sauce?​

Each jar of sauce is stamped on the bottom with a 'Best By' date which is recommended for best quality.
Do the sauces need to be refrigerated? How long can you store an opened jar of sauce?

Our sauces are shelf stable and do not require initial refrigeration. Once opened, sauces require refrigeration and should be consumed within 7-10 days for maximum flavor and freshness.
Are Beyond the Bib jars recyclable?​

Yes! Jars are made of glass and are reusable and recyclable. Check your local recycling programs for details.
We love seeing your delicious meals and kids enjoying Beyond the Bib.
Tag #beyondthebib and follow us for recipe inspiration and more!